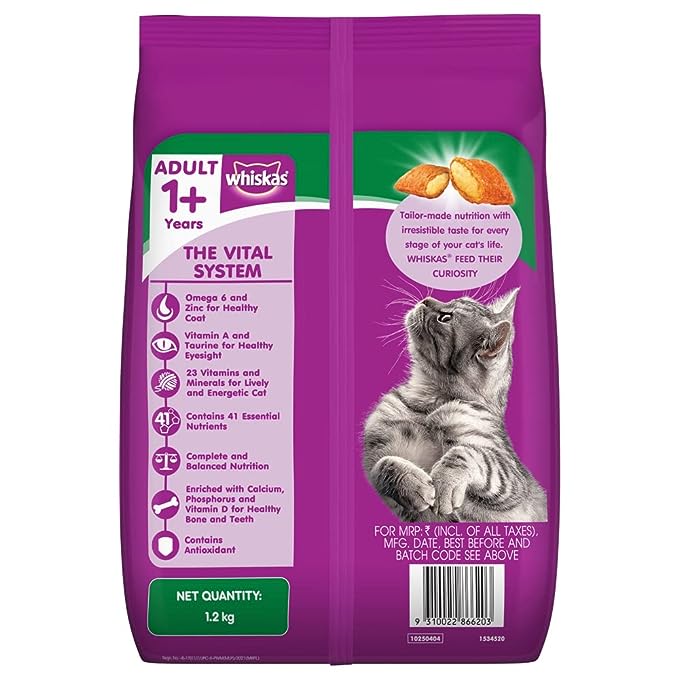 Whiskas Adult Food Dry Cat Food Tuna Perisa Flavour
Introducing Whiskas Tuna Flavored Dry Cat Food – a culinary delight meticulously crafted for your adult feline's special moments. Dive into the key highlights of this nourishing option:
Brand Excellence: Whiskas proudly presents Tuna Flavored Dry Cat Food, curated to satisfy your cat's taste preferences with a blend of quality and flavor.

Tantalizing Tuna: Indulge your cat with the rich taste of tuna, a protein-packed choice that's sure to captivate their senses and satisfy their carnivorous cravings.

Tailored for Adults: Specifically designed for adult cats, this dry cat food meets their dietary needs and desires, ensuring a satisfying and wholesome meal.

Convenient Form: The dry kibble form offers both convenience and crunch, making mealtime engaging while promoting dental health.

Generous Quantity: Each purchase includes a 1.24-kilogram bag, ensuring a plentiful supply of this delectable and nourishing dry cat food.

Breed Variety: Suitable for all breed sizes, this food embraces diversity, catering to cats of different sizes and shapes.

Birthday Delight: Make birthdays extra special with Whiskas Tuna Flavored Dry Cat Food, a wonderful treat for celebrating your feline companion's special day.