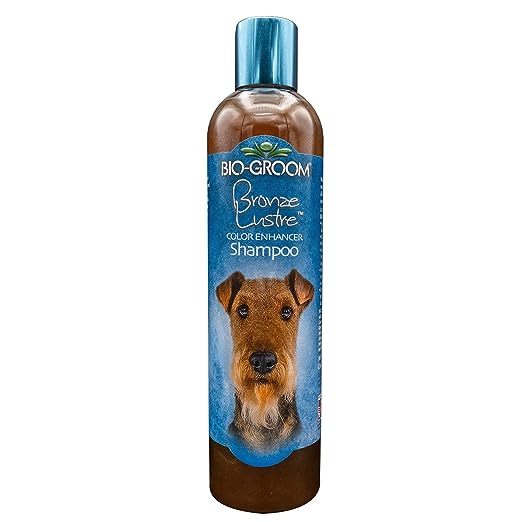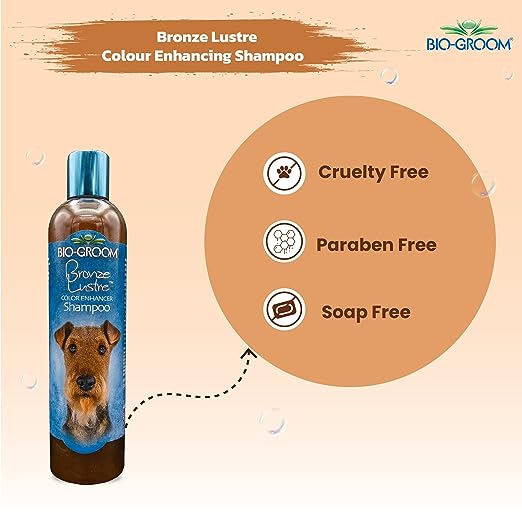 Bio-Groom Bronze Lustre Colour Enhancing Dog Shampoo is recommended by top breeders and professional groomers worldwide. It is a mild, high-quality natural shampoo specifically developed to intensify all shades of tan, red - and brown-coloured coats.

The Bronze Lustre Colour Enhancing formula cleans thoroughly while also controlling mats, tangles, and fly-away fur. If you dog's coat is dull and you are looking for that lustrous shiny coat then this shampoo is absolutely made for you.

Benefits: Brings life to the dull-looking coat. Soy Protein gives strength and body. Gently cleanse your dog and eliminates impurities, Helps prevent dryness. Unconditionally guaranteed to leave the coat clean, smooth, and easy to manage.

Direction: Wet the coat with warm water. Apply shampoo and work well through the coat and avoid contact with the eyes. Rinse. For best results shampoo and rinse again, then dry and groom as usual. Super White may be diluted with up to 8 parts of water.