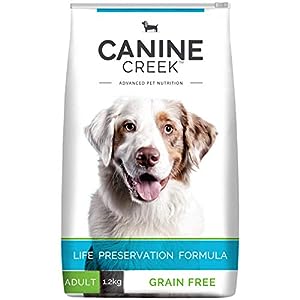 Canine Creek Adult Dry Dog Food
Elevate your adult dog's nutrition with Canine Creek Chicken Kibble. This non-vegetarian delight is specially crafted to support active behavior, digestive health, and immunity, all packed with the goodness of real chicken.
Active Lifestyle: Canine Creek's formula encourages active behavior, keeping your adult dog engaged and lively.

Healthy Digestion: Promote digestive health and ensure that your dog enjoys their meals without any discomfort.

Immune Boost: Loaded with essential nutrients, it strengthens your dog's immunity, keeping them healthy and protected.

Real Chicken Goodness: We use real chicken, making it not just delicious but also highly nutritious.

Generous Quantity: Each bag contains 1200.0 grams of kibble, ensuring a consistent supply of nutrition for your adult dog.