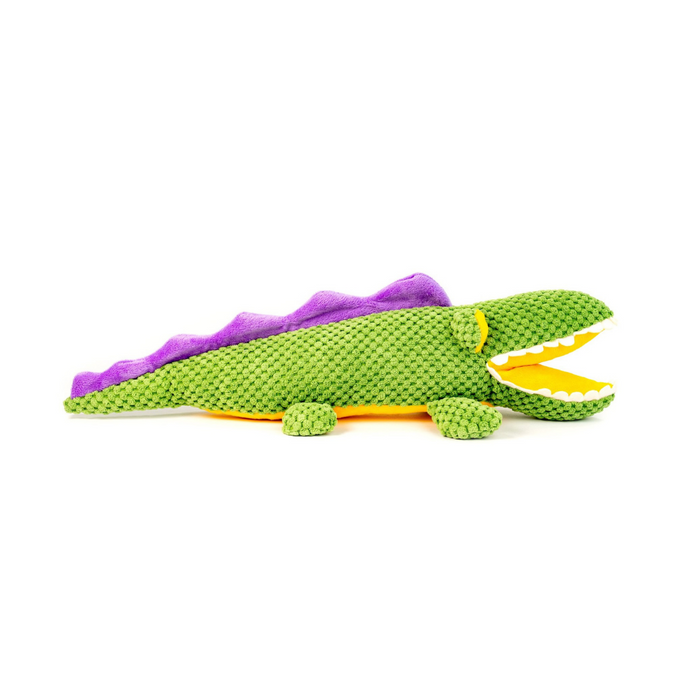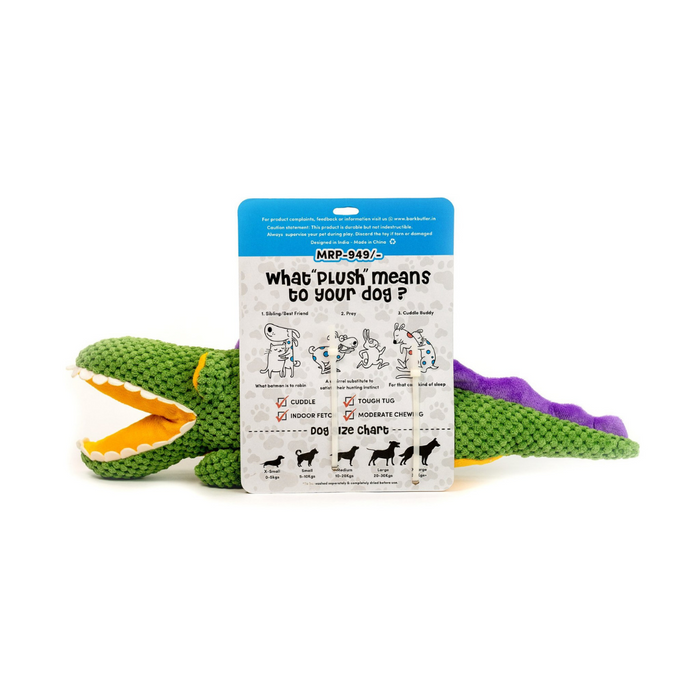 ThePetNest X Barkbutler™ : Aly-The-Gator Stuffed Dog Toy
Meet your dog's second-best friend, Aly- The -Gator. He is always up for the game of tug even if that means he is the target. Aly is tuggtastic, machine washable, non-toxic, tested plush with squeaker wrapped in fine durable stitching.
YOUR DOG'S SECOND BEST FRIEND.

Aly, the super-soft yet sturdy toy is made using a robust manufacturing process that adds a strong, durable liner to this plush toy. This will be the best companion for your dog as these have the perfect size to be held by your dog and roam around. keep your dog engage inside with this vivid and colorful super soft scratch resistance toy that your dog love to cuddle. Playful and Squeaky Aly-The-Gator is best for stimulating healthy interactive minds, say bye-bye to boring games 
Features:
Non- toxic, tested: Made using soft organic cloth material and color,  filled with crinkle paper inside this plush toy is safe from other chemical products like BPA, PVC which otherwise cause cancer and hormonal imbalance! 
Strong and Sturdy:  This soft yet sturdy toy makes it intriguing for your dog to be in involved for long hour in fun and playful games 
Squeaker: Squeaker in your dog's best friend stimulate mental interaction and mental stimulation to keep your dog's mental health healthy 
Durable and Machine Washable:  your doggo loves to scratch, this plush toy is built with a strong double liner at its ends is scratch resistance. and machine washable it  is highly recommended to keep your dog's toy clean routinely to avoid any contamination and infection

Better suited for adult dogs, not for teething puppies
Moderate chewing help in reducing your dog's anxiety and keep them calm.
This tug-gable toy, attracts your dog's attention and keep your dog busy with indoor fetch game and involve in a healthy physically active game. 

Specifications: 

Item Brand: Bark butler

Item Name: Aly-The-Gator

Material: Crinkle paper stuffed inside
Colour: Green and Purple
Product size: 18.89" or 48 cm
Playing games: Cuddle, Tough tug, Indoor fetch, Moderate chewing