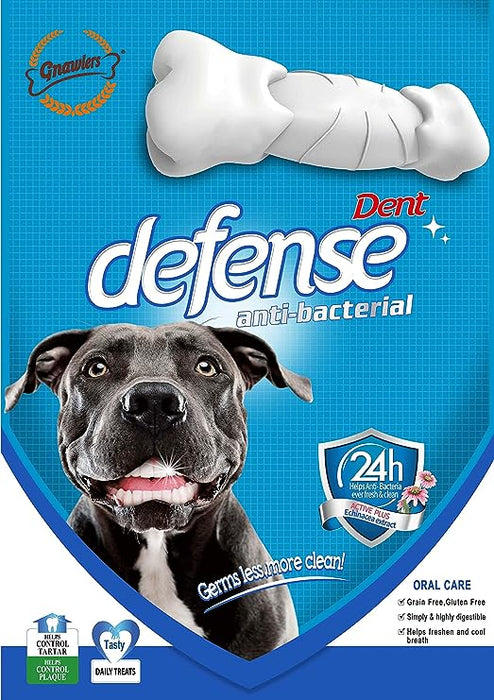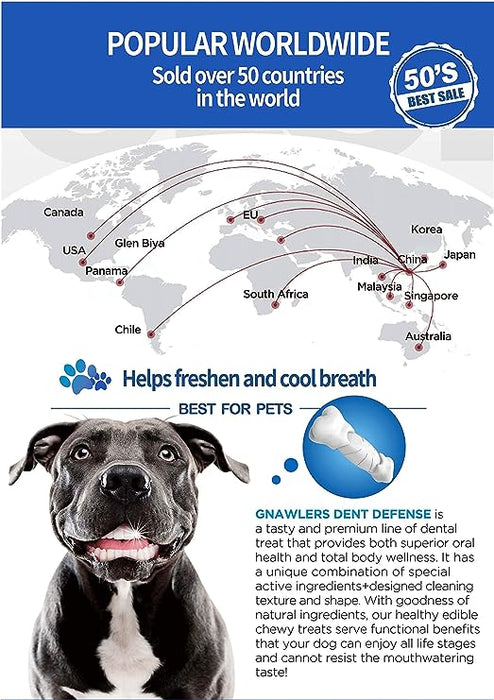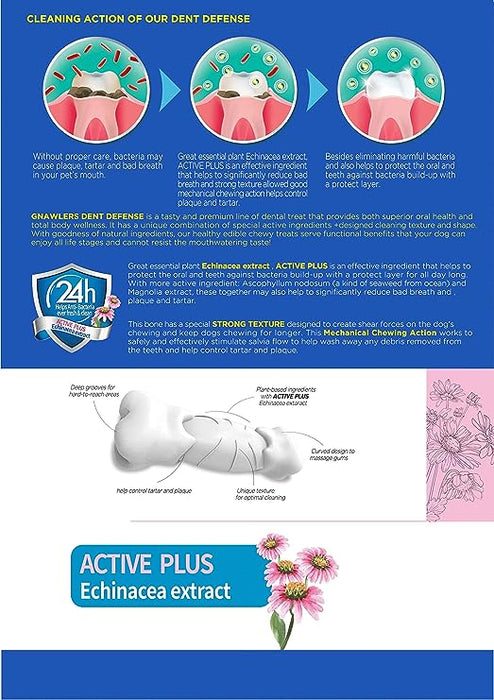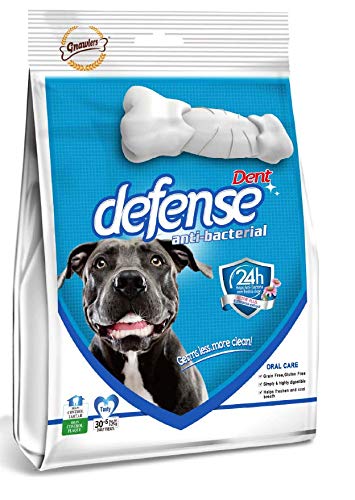 Introducing Gnawlers Dent Defense Plus Prebiotics Pet Dental Care Treats – the ultimate blend of taste and wellness for your furry friend! Our premium line of dental care treats is designed to elevate your pet's oral health while indulging their taste buds with natural goodness. Here's why your dog will adore these chewy delights:
Superior Oral Health: These treats aren't just delicious; they're formulated to promote your pet's dental hygiene. The gnaw-worthy texture helps reduce plaque and tartar buildup, keeping your dog's teeth clean and their breath fresh.

Irresistible Taste: Watch your dog's tail wag with excitement! The mouth-watering taste of our Dent Defense Plus Prebiotics treats is sure to captivate your pet's senses. They'll enjoy a rewarding treat while supporting their overall dental wellness.

Natural Ingredients: We believe in providing only the best for your pet. Our treats are crafted with a blend of premium natural ingredients, ensuring that your dog receives a healthy snack without compromising on taste.

Functional Benefits: These treats aren't just a delight for your dog's taste buds; they also serve functional benefits. The added prebiotics support digestive health, making these treats a holistic choice for your furry companion.

Suitable for Adult Dogs: Gnawlers Dent Defense Plus Prebiotics treats are tailored for adult dogs. Please note that they are not suitable for puppies under the age of 4 months, ensuring the optimal enjoyment and safety of your pet.
Elevate your pet's dental care routine with treats that go beyond just being tasty. Choose Gnawlers Dent Defense Plus Prebiotics Pet Dental Care Treats and treat your furry friend to a blend of oral wellness and natural flavors they'll love. Your pet's smile deserves nothing less!