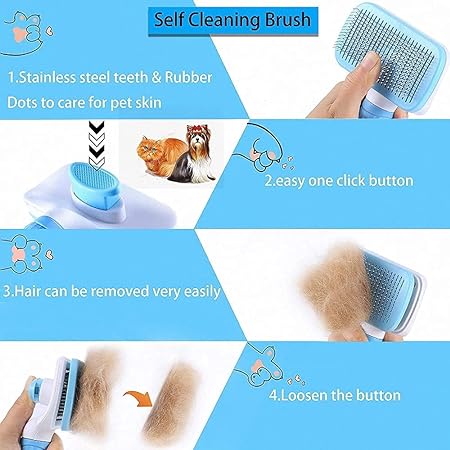 Go Pet - Deshedding Comb (L/XL)
GROOMING BRUSH FOR YOU FURRY FRIEND: An exclusive pet comb is designed to remove loose hair and get rid of tangles, knots, and dander. Additionally, using this fur remover makes cleaning up after your pet feel wonderful, gets them clean, and helps to maintain the health of their skin and coat.
MADE USING HIGH-QUALITY MATERIALS: The de-matting comb for dogs has a 7.48-inch head brush that efficiently captures stray hair and is composed of sturdy, high-quality materials. The long, ergonomic handle of the pet grooming equipment gives a secure grasp as you groom your dog or cat.
MULTIPURPOSE, PROFESSIONAL CARE: brushed with our waterproof pet brush! It's ideal for removing dead hair, grooming, and releasing tangles and knots. In addition to preventing hair loss and enhancing blood circulation, this dog comb for golden retrievers keeps your pet clean, tidy, and active.
Easy Hair removed With One Key: Once the task is complete, all that is need to do is press the blue button to easily free the beagle dog's hair.
More Tips: kindly keep youngsters and pets out of the area. If you brush your dog too vigorously, it could injure your pet. Please make sure your pet shitzu dog doesn't have any cuts or sores because grooming over them could harm.