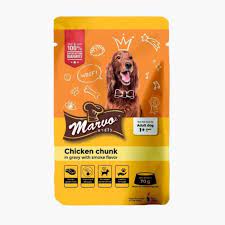 Marvo - Chicken Chunk In Gravy With Smoke Flavour
Elevate your dog's dining experience with Marvo Chicken Chunk in Gravy with Smoke Flavor – a culinary masterpiece crafted for the discerning palate. Here's why this gourmet wet dog food deserves a special place in your pup's bowl:
Premium Gourmet Delight: Treat your furry friend to a dining sensation that's truly top-tier. Marvo Chicken Chunk in Gravy with Smoke Flavor is a premium recipe that goes beyond ordinary meals, ensuring your dog enjoys a truly gourmet experience.

Human-Grade Excellence: Quality matters, and that's why this wet dog food features 100% human-grade meat sourced from Thai Union. You can trust that your beloved pet is indulging in ingredients of the highest standards.

Savory Smoke Flavor: Unleash an explosion of taste with the delightful smoke flavor that infuses every bite. The savory essence adds a layer of sophistication that your dog's taste buds will relish.

Chunky Chicken Goodness: Each can is packed with succulent chunks of chicken meat, offering a satisfying texture that's both appetizing and enjoyable for your dog to savor.

Rich Gravy Infusion: The luscious gravy that envelops the chicken chunks is a source of irresistible richness. It not only enhances the flavor but also ensures every bite is moist and satisfying.

Thoughtful Ingredients: Marvo understands the importance of quality ingredients. This recipe includes water, chicken fat, and modified tapioca starch, all chosen to provide a balanced and wholesome meal.

Convenient Portion: Each 70g can is a conveniently portioned meal, making it easy to serve the perfect amount to your furry companion without any waste.

Perfect for Adult Dogs: Designed for adult dogs, this wet dog food is tailored to meet their nutritional needs while tantalizing their taste buds.