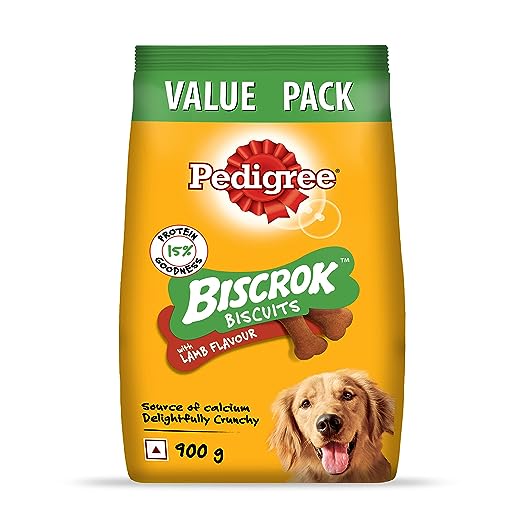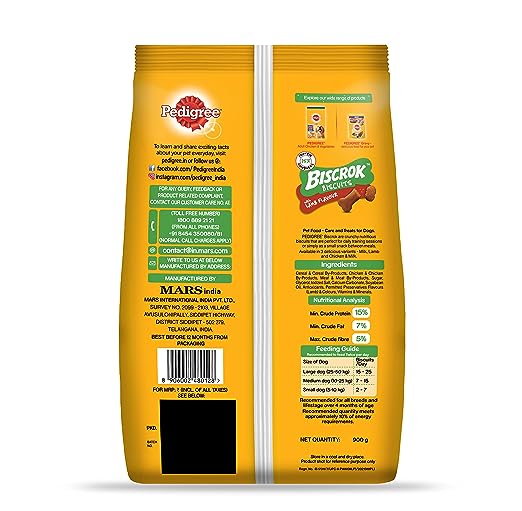 Pedigree Biscrok Biscuits with Lamb
Brand: Pedigree
Flavour: Lamb
Diet Type: Non-Vegetarian
Age Range: Adult
Item Form: Biscuits
Specific Uses For Product: Training and Behavior
Special Ingredients: Proteins, Calcium, Vegetarian, Nutrient-rich, Chicken, Milk
Net Quantity: 900.0 grams
Number of Items: 1
Package Information: Bag
Introducing Pedigree Lamb Biscuits - the perfect treat for your adult dog. These non-vegetarian biscuits are crafted with care, offering a delectable taste of lamb while being rich in essential proteins and calcium.
Designed with adult dogs in mind, these biscuits serve a specific purpose – training and behavior. Reward your furry friend with these nutrient-rich biscuits featuring the goodness of chicken and milk, making training sessions both enjoyable and effective.
Each bag contains 900.0 grams of these delightful biscuits, ensuring you have plenty to reinforce positive behavior and strengthen the bond with your dog. Trust Pedigree for quality and choose these biscuits to enhance your dog's training experience.