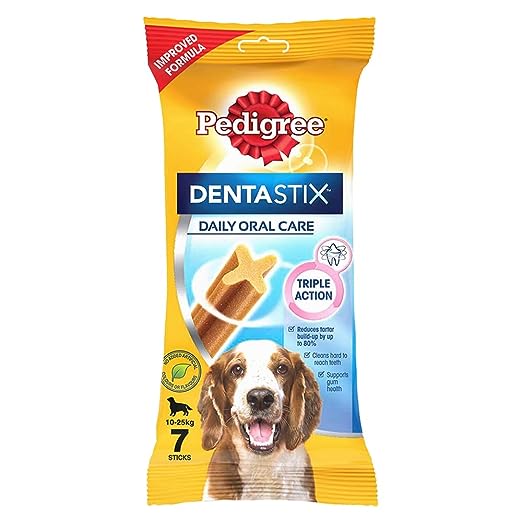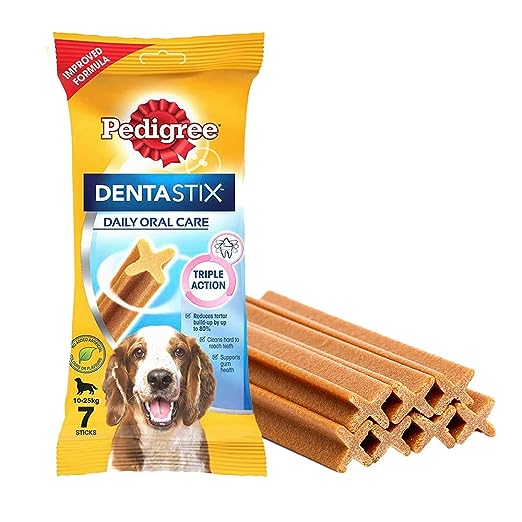 Pedigree DentastiX Triple Action
Brand: Pedigree
Flavour: Chicken
Diet Type: Non-Vegetarian
Age Range: Adult
Item Form: Stick
Specific Uses For Product: Oral Health
Net Quantity: 180.0 grams
Number of Items: 1
Package Information: Bag
Item Weight: 180 Grams
Introducing Pedigree Chicken Oral Health Sticks – the perfect solution for maintaining your adult dog's dental hygiene while treating them to a delicious chicken-flavored snack.
Crafted with care, these non-vegetarian sticks are designed to promote oral health, helping to keep your dog's teeth and gums in top condition. The unique stick form adds a playful twist to treat time, making it both enjoyable and beneficial for your furry friend.
Each bag contains 180.0 grams of these dental sticks, providing you with a convenient and effective way to care for your dog's oral health. Trust Pedigree for quality and choose these sticks to keep your adult dog's smile bright and healthy.