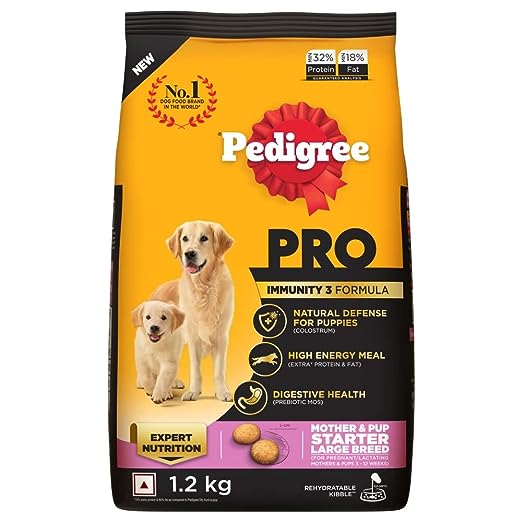 Pedigree Pro Mother & Pup Starter Large Breed
Brand: Pedigree
Flavour: Chicken
Diet Type: Non-Vegetarian
Age Range: Puppy
Item Form: Dry Kibble
Specific Uses For Product: Promotes Digestive Health
Special Ingredients: Enriched with Prebiotic
Net Quantity: 1200.0 grams
Number of Items: 1
Package Information: Bag
Introducing Pedigree Chicken Puppy Dry Dog Food – the ideal choice for your growing pup's nutritional needs. Crafted with care, this non-vegetarian dry kibble is designed to promote digestive health, ensuring your puppy's tummy stays happy.
What sets this food apart is its special ingredient – Prebiotic. This added goodness supports your puppy's gut health, enhancing their overall well-being. With a net quantity of 1200.0 grams per bag, you'll have plenty to ensure your puppy gets the best start in life.
Trust Pedigree for quality and choose this chicken-flavored dry food to give your puppy the taste and nutrition they need to thrive.