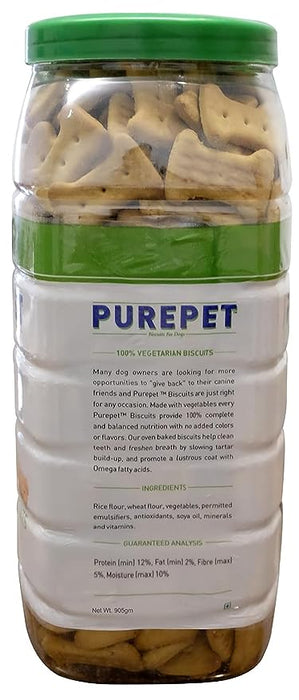 Compassionately Made: Crafted by the compassionate team at Sukadev Animal Care.
Vegetarian and Balanced: These biscuits are fully vegetarian and provide a balanced diet for your dog.
Healthy Lifestyle: They help in maintaining a healthy lifestyle for your beloved pet.
Substantial Weight: Each pack contains a substantial 800 grams of biscuits, lasting longer for regular treats.
Pure Joy: Watch your dog roll over with happiness every time you open the pack.
Reward Your Pet: Use these delightful biscuits as a rewarding treat for your furry companion.
Quality Guaranteed: Trust Sukadev Animal Care for quality and care in every biscuit.
Pamper your dog with Purepet Vegetarian Biscuits, and ensure they enjoy both taste and nutrition. Order now to see your pet's tail wag with delight!