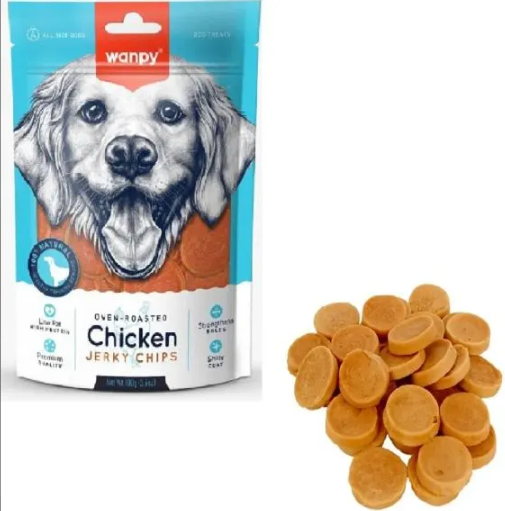 WANPY Chicken Jerky Chips
Introducing Wanpy Oven Roasted Chicken Jerky Chips Dog Treats – the irresistible way to make your pup's tail wag with excitement! Here's why these treats are a must-have for every dog owner:
Mouthwatering Aroma: Watch your furry friend's ears perk up as you open the bag of Wanpy Oven Roasted Chicken Jerky Chips Dog Treats. The delicious aroma will capture their attention and have them eagerly awaiting their tasty reward.

Natural Goodness: These treats are all about keeping it natural. Made from real chicken meat as the first ingredient, you can trust that you're treating your pup to high-quality, wholesome goodness.

High Protein, Low Fat: When it comes to health, Wanpy has you covered. These roasted chicken chips are high in protein to support your dog's energy levels and muscle development, while being low in fat to keep their waistline in check.

Charming Mini Sausage Shape: Treat time gets a playful twist with the mini sausage shape of these jerky chips. Not only do they taste great, but they're also a delight to chew on, satisfying your dog's natural urge to gnaw.

Rewarding Moments: Whether it's for acing a trick during training or simply for being the goodest of good boys and girls, these jerky chips are the perfect way to reward your pup's positive behavior.

Resealable Freshness: Wanpy understands the importance of keeping treats fresh. The resealable bag ensures that every chip retains its mouthwatering flavor and texture, making each treat as delightful as the first.

Between Mealtimes Delight: While these jerky chips are a fantastic addition to your pup's routine, remember they're intended as rewarding supplements and not substitutes for regular meals.

Quality Ingredients: Alongside real chicken meat and meat by-products, these treats are enriched with potato starch, soy protein, salt, glycerin, and antioxidants. A thoughtful blend that brings out the best in taste and nutrition.