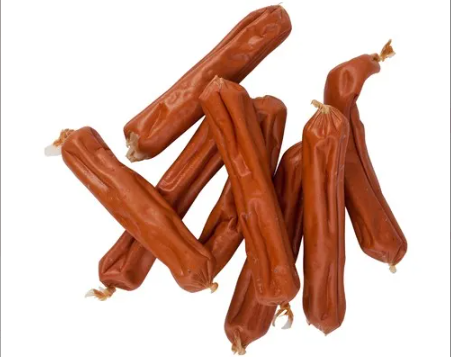 Introducing Chicken Sausages from Wanpy Dog Treats - the perfect blend of flavor and functionality that your furry friend will adore. Here's why these treats deserve a spot in your pup's snack collection:
Chewy Delight: Wanpy's Chicken Sausages feature a tough, chewy texture that keeps your dog engaged, making them an excellent choice for training sessions. Whether you're teaching new tricks or reinforcing good behavior, these sausages are the ultimate motivation.

Mini Sausage Shape: Delight your pup with treats that are not only tasty but also fun to munch on. These sausages are designed in mini-sausage shapes, adding an element of playfulness to treat time.

Digestive Friendly: Worried about sensitive tummies? Wanpy understands your concerns. These Chicken Sausages are crafted to be easily digestible, ensuring that your dog can enjoy every bite without any discomfort.

Real Chicken Goodness: At Wanpy, quality is a priority. That's why these sausages are packed with real chicken as the number one ingredient. Your furry friend deserves the best, and these treats deliver on that promise.

Balanced Ingredients: Wanpy's Chicken Sausages are crafted with a thoughtful blend of ingredients. Alongside premium chicken, they contain chicken by-products (liver), soybean flour, starch, salt, glycerin, and antioxidants. This well-balanced combination contributes to both flavor and nutritional value.

Rewarding Moments: Whether it's a quick treat to appreciate good behavior or a delightful in-between meal snack, Wanpy's Chicken Sausages are versatile and tailored to suit various occasions. Strengthen the bond with your pet through these rewarding moments.