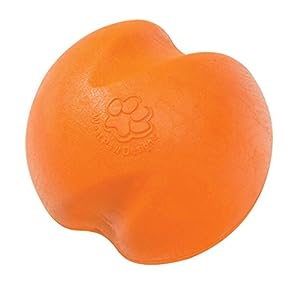 West Paw Zogoflex Jive Durable Ball Chew Toy for Dogs - Tangerine
Elevate your fetch game with Jive, the ultimate ball designed for energetic dogs and their enthusiastic human companions. Here's why Jive is a must-have addition to your playtime routine:
Bright Bouncing Fun: Watch your dog's excitement soar as they chase and pounce on the vibrant, bouncy Jive ball. The thrill of the chase creates unforgettable bonding moments between you and your furry friend.

Durable Design: Jive is built to withstand the most vigorous play sessions. Unlike tennis balls, it's tough and unyielding even to determined chewers. Your dog won't easily dent or destroy this durable ball, making it a long-lasting investment in fun.

Safety First: Crafted with your dog's health in mind, Jive is non-toxic, CE marked, and BPA-free. You can rest assured that your pup is playing with a product that prioritizes their well-being.

Compatibility and Convenience: Jive effortlessly fits into a standard ball thrower, ensuring seamless play without any disruptions. Plus, after an energetic playtime, toss Jive into the dishwasher for quick and easy clean-up, so you can get back to making memories.

Size Options: Choose from the small size that perfectly fits standard ball throwers or opt for the extra-small size, tailor-made for small breeds. Every dog, regardless of their size, can now experience the joy of Jive.