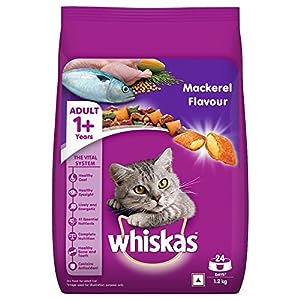 Whiskas Jr Mackerel Flavour
Introducing Whiskas Mackerel Flavored Dry Cat Food – a delectable choice meticulously designed to cater to your adult feline's taste and energy needs. Explore the key attributes of this nourishing option:
Brand Excellence: Whiskas proudly presents Mackerel Flavored Dry Cat Food, tailored to indulge your cat's non-vegetarian inclinations.

Mackerel Temptation: Spoil your cat with the rich taste of mackerel, a protein-packed treat that's sure to captivate their carnivorous instincts.

For Active Adults: Formulated to align with the energy requirements of active adult cats, this dry cat food supports their dynamic and engaged lifestyle.

Crunchy Satisfaction: The dry kibble form offers a satisfying crunch, promoting dental health and indulging your cat's natural urge to chew.

Nourishment Enrichment: Enriched with essential nutrients, minerals, vitamins, and nutrient-rich components, this meal provides complete nourishment for your adult cat.

Generous Quantity: Each purchase includes a 1200.0-gram bag, ensuring an abundant supply of this flavorful and energy-boosting dry cat food.

Convenient Packaging: Neatly packaged in a bag, this dry cat food maintains its freshness and offers effortless access for feeding.