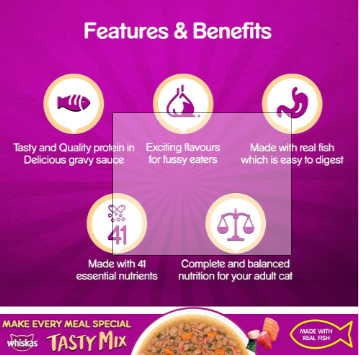 Whiskas Tasty Mix Seafood Cocktail & Wakame Seaweed Adult
Experience the delight of Whiskas® Seafood Cocktail & Wakame Seaweed in Gravy – a meticulously crafted wet cat food that elevates mealtime satisfaction. Explore the key features of this nourishing recipe:
Complete and Balanced: Whiskas® presents a comprehensive wet cat food that not only nourishes but also adds excitement to mealtimes, ensuring your cat's well-being.

Real Fish and Nutritious Vegetables: Crafted with real fish and wholesome vegetables, this recipe combines essential nutrients with enticing flavors that cats adore.

Omega Fatty Acids: Enriched with Omega fatty acids, this meal supports healthy skin and coat, promoting your cat's external well-being.

Essential Nutrients: This wet meal is a powerhouse of essential nutrients that cater to the health and energy requirements of adult cats.

Hydration Support: Whiskas Tasty Mix aids in hydration, ensuring your cat stays well-hydrated for optimal health.

Appealing Texture, Aroma, and Flavor: Designed to captivate the feline palate, this meal boasts an appetizing texture, aroma, and flavor that even fussy eaters can't resist.