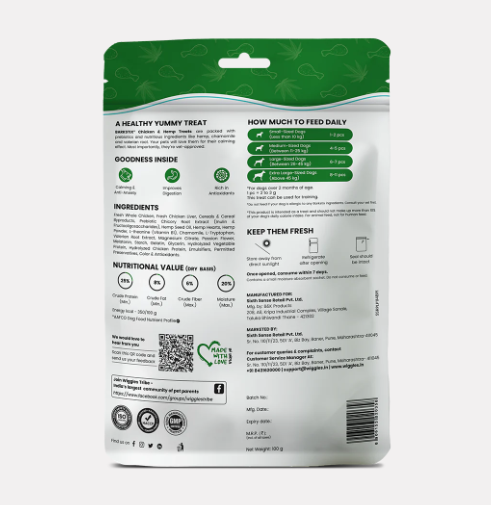 Wiggles- Barkstix Chicken Hemp
Introducing Barkstix Chicken and Hemp Dog Treats - Nutritious and Irresistibly Delicious!
Key Features:
Fresh Whole Chicken: These treats are crafted with care, featuring the wholesome goodness of fresh whole chicken and cereals to provide a balanced and tasty snack.

Hemp Infusion: Packed with the nourishing benefits of hemp seed oil, hemp hearts, and hemp powder, these treats offer a holistic approach to your dog's well-being.

Vet Approved: With the veterinarian seal of approval, you can confidently offer these treats to your furry friend, knowing they're both tasty and beneficial.

Real & Fresh Ingredients: We prioritize quality. These treats are made using real and fresh ingredients, ensuring your pet receives the best nature has to offer.

No Added Preservatives: Keep it pure and simple. Our treats are free from added preservatives, giving your pet a wholesome treat option.